and more, for only $72.04.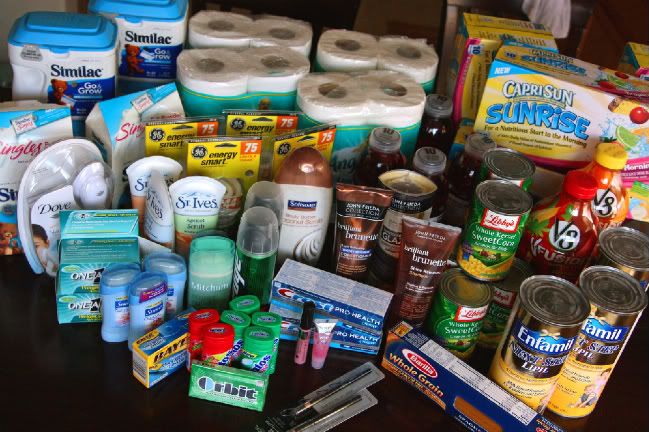 So I know what you're thinking...you're probably looking at the picture, and saying to yourself something like, well, she really didn't get that much stuff...or, 72.04 is still a lot of money, or it looks like she made out OK, but I'm not overly impressed. Please, just allow me to dissect these deals for you, and then you can make a fair determination. First of all, all of this - regular price - is worth just under $400...so basically, I saved about 80%. To me, it just doesn't get much better than that. Here's the break down:

These are the items that I picked up for free:
4 4 packs of Angel Soft toilet paper (reg 1.89 each)
4 Suave deodorants (reg. 1.49 each))
8 packs of Mentos gum (reg 1.49 each)
1 Bayer Aspirin quick release crystals (reg. 2.99)
1 Colgate sensitive (reg. $4.89)
2 Edge infused shave gel (reg. 3.29 each)
1 Softsoap body butter coconut scrub (reg. $5.49 each)
4 Barilla whole grain pasta (reg 1.99 each)
2 Crest pro health toothpastes (reg 3.89 each)
4 GE energy smart light bulbs (reg 4.99 each...thanks Brooke, i totally didn't even see that one)

That's a total of $75, but I paid absoltely nothing for any of it!

These are the things that were $1 or less:
1 Dove skin vitalizer- .50 (reg price 12.99)
4 boxes Capri Suns- .77
4 vitamin waters- .25
6 cans Libby's sweet corn- .38
2 Rimmel lip glosses- $1.00 (reg 6.99 each)
1 Mitchum deodorant-.25 (reg 3.99)

Other good deals:
8 lbs of boneless/skinless chicken breast ($1.57/lb)
2 1 gallon milks ($1.57 each)
2 Loreal eyeliners ($2.00 each, reg. 8.99)
3 John Frieda brunette assorted hair care products ($1.50 each, reg. $8-$12)
2 packages of One A Day vitamins (reg. $13, paid $5)

Not great deals, but things I needed, or wanted:
3 bottles of St.Ives apricot scrub (2.00 each, reg 3.99)
1 small package of m&m's to keep Ruby happy while I shopped
1 container red grapes
2 cartons of strawberries (2 for $4, reg $4 each)
2 V8 Fusions (OK deal- reg. $4.29, paid $2 each)
1 pack of Orbit gum
1 child's nasal aspirator


And now, the best for last. This is by far, my favorite find of the day:


Together, this formula - regular price - totals about $120...but I got it all for less than $18! The 4 containers of Similac 22 oz. GO and Grow formula, ended up being only $1 each (reg price $19.99)! It's a good thing I got such a great deal on all of Asher's food; because, if you ask me, these little chunker legs have not yet reached their full potential.
WOW! Can you even believe those suckers?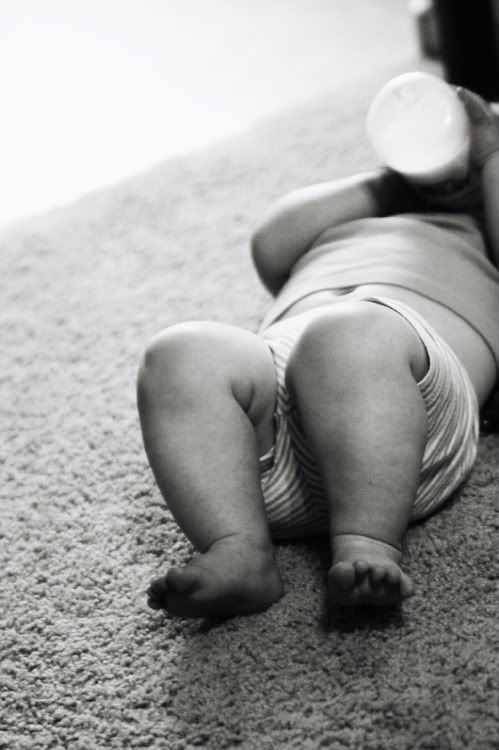 So as you can see, I am a huge advocate of couponing and shopping the deals. In our struggling economy it's just one way of really being able to cut back and put more into savings...because heaven only knows when that rainy day will be upon us.