Our sweet little Asher...my heart just breaks for him. Poor little angel has had such a rough go at life. We first noticed signs of irritability when he was about 5 days old. He would just cry, and cry, and arch his back, and cry. And it wasn't just the usual (I'm crying because I'm hungry, tired, or need my diaper changed) baby cry either. This was always a cry of distress...a cry of pain. We took him to the doctor, who refused to treat him because he was too young. Our suspicions, based on his symptoms, were that he had acid reflux; but the doctor told us that acid reflux doesn't normally manifest itself until the baby is about 6 weeks of age. However, as the days and weeks progressed, it became more and more apparent to us that the reflux was indeed what had been ailing him. At two weeks old, he got a double ear infection, and was hospitalized for four days. We were told that babies with reflux are more prone to ear infections because the acid from the stomach can come up and settle in the small pockets located behind the ears...which then turns into a bacterial infection. To prevent this from happening in the future, we were told to feed him while sitting up, and then to keep him upright for about an hour after each feeding. We were also instructed to have him sleep at an incline. Unfortunately, even after following every instruction, both his ears became infected just 4 weeks later.
In his short life, I have taken him to 15 doctor's appointments, three different hospitals, we've seen half a dozen pediatricians, 2 chiropractors, he's had 4 sessions of cranial sacral therapy (which is a very light touch massage type therapy), he's been on four different antibiotics, and two different dietary supplements including Magnazymes and Probiotics, two different anti-acid medications (Zantac and Prevacid) for the reflux (and even stronger dosages of each of these prescriptions), we've tried five different formulas (one of which was very expensive and still didn't help), and even experimented with adding rice cereal to his milk (in an attempt to weigh it down so that it would stay in his stomach). Although some of these things have helped relieve some discomfort, nothing has seemed to provide complete relief. He's already over two months old, and still hasn't even gained a pound. In fact, it wasn't even until a couple of weeks ago, that he finally surpassed his birth weight. (When Ruby was his age, she had almost doubled her birth weight.)
My mother-in-law used to call every day and ask if our little guy had smiled yet. Finally I just had to tell her that he really has had nothing to smile about. Who feels like smiling in the midst of so much pain and discomfort? (I am quite happy to announce that he is smiling a little now. That - and the fact that he is still sleeping through the night - has literally been my saving grace these past couple of months.)
Due to his slow weight gain, and constant discomfort, our current pediatrician finally ordered an upper GI - a fluoroscopy x-ray examination of the upper gastrointestinal tract. We took him to the hospital for the test, and after drinking a contrast material called Barium, the x-ray indicated that his anatomy was perfectly normal, but that indeed he has GERD - acid reflux. I was relieved that we weren't dealing with any other serious issues; but at the same time feeling a bit frustrated with the diagnosis, simply because we had already been treating him for reflux...and obviously none of these treatments have properly treated him. Our doctor has now referred us to a pediatric GI, who can hopefully help us find some answers to relieve some of his painful symptoms...symptoms which have prohibited our little sweetie from being the happiest little baby he could be. I just love him so much, and it hurts my heart to see him have to go through so much at such a young age. They say that this is definitely something he'll grow out of, but I don't want to wait that long. I want to find him some help, and some relief...now...not 10 months from now. I want all of this because I want his first year of life to provide him with countless reasons for smiling.

These pictures were taken during his Upper Gastrointestinal Tract Radiography...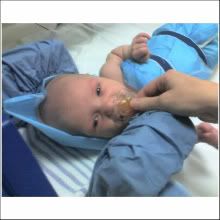 Don't you just love our stylish (radiation) protective aprons? You can tell John sure felt cool in his :)