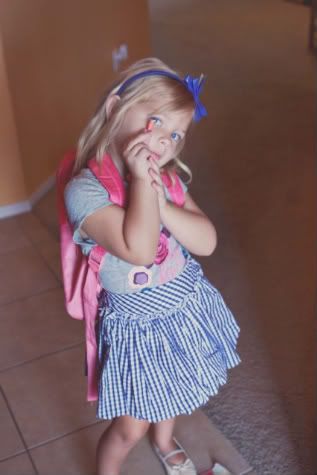 Today was Ruby's first day of school. This is her last year of preschool before she enters kindergarten. I cannot believe she is already so grown up. It wasn't as hard as I thought it would be, taking her to school. Probably because I got to go with her for the first day. It was nice to be able to meet her new teacher, and have a tour of her classroom. Miss Arlene met with the parents, while her assistants took the children and read them a story - Stellaluna. I haven't read it myself, but I know it's the story of a fruit bat who gets separated from her mother. I'll have to read it to see how the story really applies, but I can't help but think of Ruby as my little Stellaluna. It's hard to send my first born out in the world. I sometimes wish I could just keep her home forever, tucked safely in my arms...but let's be honest, how healthy would that be? I guess I can only pray that while she's away, she'll be watched over and protected. That she won't be [negatively] affected by all the craziness this scary world has to offer. That she'll remain true to herself and to her values. I'm really excited about her preschool program this year. It's Christian based, which means that she'll be learning stories from the Bible as well as the Book of Mormon. Her teacher also promised that by the end of the year, she'll be reading! So yes, my little Stellaluna and I may suffer from some separation anxiety in the beginning...but ultimately, it will be for the best. I couldn't be more excited for this new year, and for it's endless possibilities.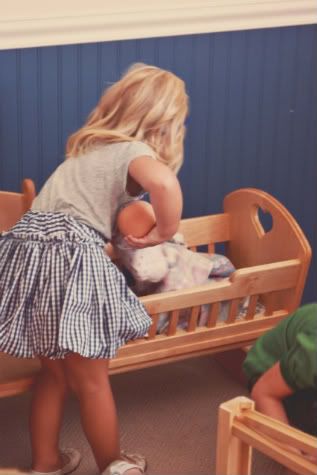 Enjoying some playtime at school and holding "Stellaluna" the bat.
Ruby is sad to have to come home...while Asher, with his headband and name tag in place, is anxious to head out the door.