The other night after getting the kids ready for bed, and cleaning the house inside and out, I decided to finally sit down and work on my lesson for Sunday. Knowing that Asher would be due for a feeding later on, I filled up a bottle with water, and then measured the appropriate amount of formula, which I put in a separate plastic container. I brought both the bottle and container to the room with me, and set them on my nightstand for later. After putting the kids on the bed for a movie, I began work on the lesson that I had unintentionally put off all week. I was completely in my zone, and for 20 minutes or so, didn't even so much as turn around to check on the kids. I just figured, hey they're quiet...totally into the movie...I'm going to take advantage of this and bust out this lesson. I totally should have learned from the incident of two weeks ago, when Ruby pushed Asher off the bed; but like I said, I was completely in my own little world...that is...until a sudden shrill from Asher broke the silence, not to mention my concentration. I turned around only to find that Ruby had gotten a hold of the little container housing the powdered formula, and had then poured it on top of Asher's head. She also decided it would be fun to draw pictures with her fingers in the pile of powder. I think he was actually pretty happy until some of it got into his eyes, which then turned to milk...in it's liquid form. Oh man, I was so mad...but on the other hand, it was one of the funniest sights I had ever seen. I tried, in my sternest voice to reprimand her, but then I just burst out laughing and ran for my camera. I think she was pretty confused by my mixed emotions, hence her expression in this first photo...




But, as you can see here, even though she was sticking her tongue out at me, she had softened up immensely...




While poor Asher, on the other hand, was just becoming more and more irate...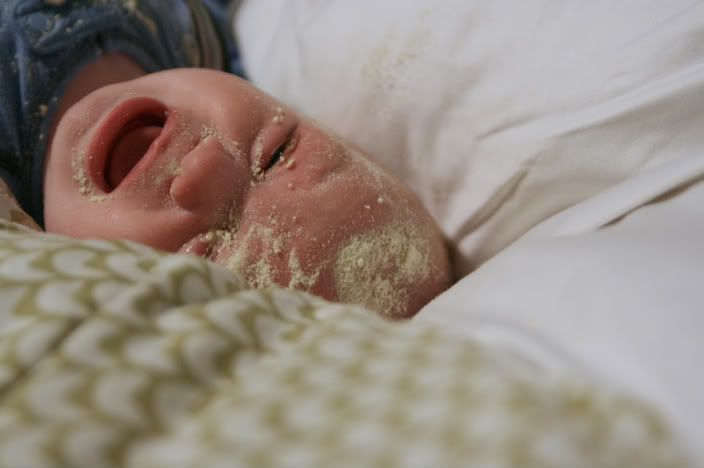 Now there, that's a little better...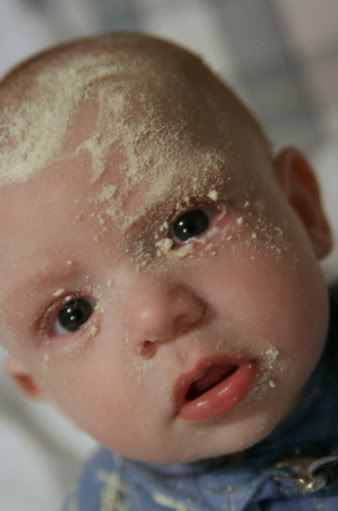 I think it goes without saying, I didn't get much done on my lesson that night; and, after the second time of washing kids, changing clothes, cleaning sheets, and vacuuming the carpet...you can bet I was pretty excited to finally get John home from his business trip (aka 4 day hiatus from fatherhood).