she's a really great sister.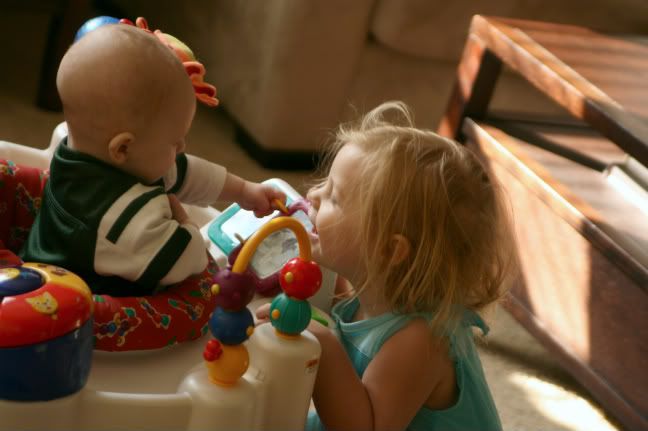 But every once in a while, like just about 10 minutes ago, we have a small episode. She's currently in time out for slapping Asher on the top of the head.

And the other day...I couldn't believe what she did to him. They were both sitting on my bed watching their favorite Charlie and Lola, and I was on the computer in the very same room. Because the bed was behind me, I had to turn around periodically to make sure they were doing ok. Each time I turned to check, I found them both completely enthralled in the program. Several minutes had passed, in which I didn't hear so much as a peep from either of them, so I turned to ensure they were both still happy and well; when instead I found Asher, who had previously been lying in the middle of the bed, missing in action. I totally panicked. Ruby, where's your brother!?! No answer. RUBY, WHAT HAPPENED TO ASHER?!?! And with her eyes still glued to the TV, she nonchalantly answers, "oh, he falled off". Then, just as apathetically, she points to the floor on her side of the bed(eyes still glued to the program). I ran to where Ruby had been pointing on the other side of the bed, only to find my baby face down...in a pile of pillows. Thank goodness I hadn't yet made my bed for the day, because all those toss pillows were paramount in cushioning his fall. I picked him up, expecting to find him seriously injured, or worse...but instead came face to face with the happiest, smiliest Asher I ever seen. Even though this potentially scary incident turned out to be quite humorous, I still had to question how he "falled off the bed". He can roll, but not that much at one time. (He would have had to roll from his back to his tummy, and then tummy to back several times to have made it to the edge of the bed.) After drilling Ruby for a few minutes, she finally admitted to having pushed him off.

It's really a miracle that these precious (and extremely fragile) little ones, survive the antics of their older, toddler siblings. Thankfully, my babies are under the watchful eye of someone so much larger than I...and for that, I am eternally indebted.