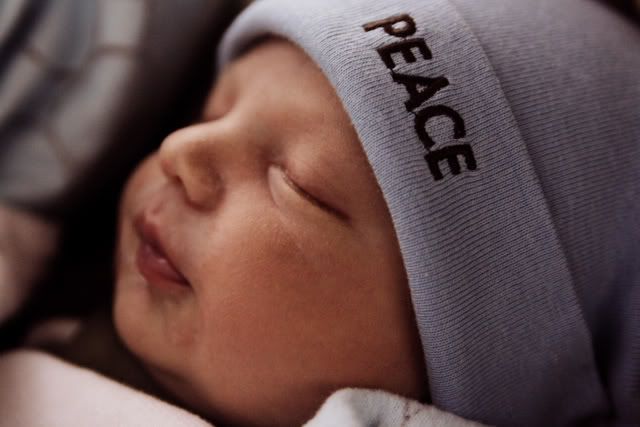 Many have asked how we came up with Asher's name. Was it something we were able to choose ourselves? Did the birth mom name him? Well, to answer your questions...I guess a little of both.
We've liked the name Asher for awhile now. I like it because it's biblical (I've always liked bible names for boys), but not a super common/overused bible name. To be truthful though, we hadn't really considered using this particular name for this baby. We began throwing names around a couple of months before he was born. We scoured the Internet, name books, etc... but nothing seemed right. Nothing jumped out at us. We even asked our birth mom if there were any names in particular that she really loved. (At that point, we felt like we needed all the help we could get.) She gave us a few ideas to think about, and John and I continued bouncing ideas off of each other. It wasn't until we looked up the origin and meaning of the name, that we were finally convinced that this unborn baby was most definitely...an Asher.
The name Asher \a-sher\ is pronounced ASH-er. It is of Hebrew origin, and its meaning is "happy" and "blessed". Biblical: Asher, the eighth son of Jacob, was promised a life blessed with abundance.
I also found it interesting as I read the account of Jacob, in the book of Genesis, that Asher's birth mother was actually Zilpah, Leah's handmaiden; yet Leah loved Asher and Gad like her own biological children.
In the short time that we've had our little Asher, we have loved him and cared for him no less than we have our precious Ruby, who is our own biological daughter. To us, the important thing is not how he got to us, but that he's here...with us. He's ours. And oh how "blessed" we are to have him...and oh how "happy" he makes us feel. I know that his birth mother made the decision to place him for adoption with only his "happiness" in mind; and our promise to her is that we will do everything in our power to ensure his "happiness" and teach him the way to live so that his life, like that of the biblical Asher, will be "blessed with abundance".

Jordan was one of the names that Asher's birth mom told us she really liked. When we looked up it's origin and meaning, once again, we just felt that this name would be so appropriate for his middle name.
The name Jordan \j(o)-rdan, jor-dan\ is pronounced JOR-dan. It is of Hebrew origin, and its meaning is "down-flowing". Name of the major river in Palestine, used as a given name since the Crusades.
I liked that there's some consistency between the two names, both being of Hebrew origin. I also love that the name Jordan means "down-flowing", referring obviously, to the river Jordan. We know that Moses was born to a Hebrew mother, but as Pharaoh ordered the execution of all Hebrew baby boys, Moses' birth mom (for his protection and well being) sent him "down a river", and we know that he was found by Pharaoh's daughter, and then "adopted" into the royal Egyptian family. To me, using the name Jordan is just a subtle way of linking Asher's heritage to Moses' (both being adopted) rather than directly naming him Moses.
Plus, I just think it's so neat that Asher's birth mom was able to contribute in choosing his very special name.

I hope that when he's older, he'll love and appreciate his name for the very same reasons that inspired us to choose it.